| | |
| --- | --- |
| | By Sea |
Soak up the Cornish coastline as you cruise to the islands
Arriving in the Isles of Scilly by boat from Penzance after a 2 hour 45 minute mini-cruise is wonderful. As soon as you set sail aboard the Scillonian III, you'll already sense the gentler pace of life; your journey allows you time to relax.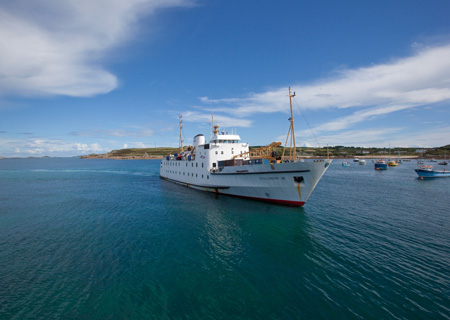 The voyage also gives you a stunning seaside view of Cornwall's quaint villages, the world-renowned open air Minack Theatre and the Land's End peninsula. Quite often, the ship is joined and followed by pods of dolphins, a raft of seabirds and sometimes even basking sharks. So by the time you arrive in Scilly and disembark on the main island of St. Mary's, you're bound to be in holiday mode.
To find out more CLICK HERE
| | |
| --- | --- |
| | By Air |
Fly with Skybus to the Isles of Scilly all year round
There can't be many places in England where you arrive on holiday on a scheduled flight in what feels like your own private aircraft with a personal pilot as you enjoy spectacular views of the coast line.
That's because when you fly to Scilly, you will travel either on an 8-seater Britten-Norman Islander aircraft or a 19-seater De Havilland Twin Otter. Flying to the Isles of Scilly is the antithesis of modern day air travel - a special and pleasurable experience from the moment you check in.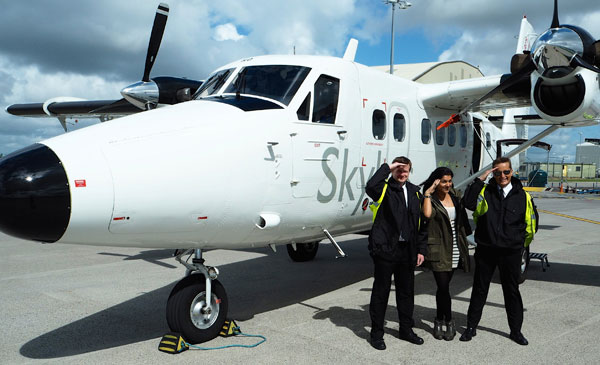 There are three departure points from the mainland – Exeter Airport which is 60-minute flight (March to October), Newquay Cornwall Airport which takes 30 minutes, and Land's End which is just a 15-minute hop to the islands. Both Newquay and Land's End flights operate year round. The Isles of Scilly Airport is located on the main island of St. Mary's.
To find out more CLICK HERE
| | |
| --- | --- |
| | By Rail |
Leave your car at home - come by train
The Isles of Scilly advocates car-free travel and positively encourages visitors to travel to the West Country by train.
The Great Western Rail service sees you travel by train to Penzance and then connect either directly onto the Scillionian III passenger ferry or onto a flight from Land's End via a short transfer provided by Isles of Scilly Travel. When you arrive in Scilly, both the Quay and the Airport are located on the main island of St. Mary's. Transfers to the other islands go from St. Mary's Quay.

For more information about Great Western Railway including the Night Riviera Sleeper Service, which arrives in Penzance in the morning in good time to catch the Scillonian III ferry or first flights out to Scilly:
To find out more CLICK HERE
| | |
| --- | --- |
| | By Helicopter |
Watch this space...